If you're a regular at our website, you probably already know that the OnePlus 3 is available at HSN. However, if you're wondering if the phone is worth it or not with numerous other brands available at similar prices, this article is specifically for you. Read the article and be sure to leave your comments if you have any further questions, given they aren't already answered here.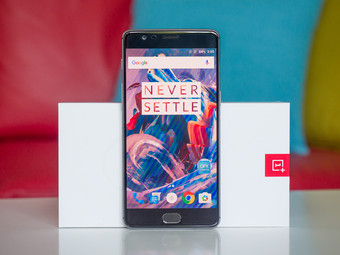 Here we go. The OnePlus 3 comes after the successful launches of OnePlus One, Two and OnePlus X. The 3 devices before the OnePlus 3 have been outstanding for the price that they are being offered at along with the features and hardware that the company put in their smartphones. You would think that in the ocean of brands available for purchase, with names like Samsung, HTC, Motorola, LG etc. to name a few Android powered phones, the OnePlus would have had a tough time in their survival period but they pulled through quite well and have come out with their 4th smartphone.
Coming back to the smartphone at hand, the OnePlus 3 is running on Android 6.0.1 (Marshmallow) and will be updated to Android N soon after the update is released. The most interesting part is that of this smartphones hardware as it's the same as that of other falgship smartphones and although the phone is a bit on the expensive side at the moment, when the price settles down, it will cost as much as a mid range phone with flagship specifications.
The hardware of the smartphone includes:
1. 5.5 Inch Optic AMOLED capacitive touchscreen
2. Corning Gorilla Glass 4 protection (Screen)
3. Running on Qualcomm's Snapdragon 820 processor (Adreno 530)
4. 64 GB memory with a whopping 6GB RAM
5. 16 MP rear camera and an 8 MP front facing camera
6. 3000 mAh battery (a bit disappointing considering this hasn't been brought up with the increase in specs. Used to be quite good on the older models)
7. Fingerprint scanner
These are some of the features which most flagship devices are coming out with at the moment and all these devices are more expensive that the OnePlus 3. Some of the design traits of the device are similar to that of an iPhone 6S - something becoming a common trend nowadays with the likes of Xiaomi, Meizu, Samsung etc. following suit.
All in all, this is a great device which would fulfill all your gadget needs. OnePlus has made a great name for itself in the market and consumers are eagerly await the launch of their new smartphones. Same was the case with their 4th device and the response for far has been quite good. Be sure to check the smartphone out and visit our news section regularly for more updates about our store and the gadget world.
https://homeshopping.pk/products/Oneplus-3-Price-In-Pakistan.html